Term Life insurance is a very common form of life insurance and provides a lump sum payout if you die in the course of the policy duration or if you suffer from a Total Permanent Disability. Known also as pure life insurance, it is priced affordably so that anyone can apply for it at any life stage and with this policy in hand, you can stay assured that you and your family will be protected in the occasion that something unfortunate happens to you.
For instance, let's say that you're a term life insurance policyholder, you will make payments called premiums to an insurance company or bank. In return, you will receive a fixed amount of money (lump sum) amount of coverage as the key benefit.
The benefit will be paid out to you or the beneficiaries of the policy as a lump sum in the event of death. In addition, you can extend the coverage to also include terminal illness, critical illness or total permanent disability
Why Should I Get Term Life Insurance?
No-one wants to think about their own death, let alone plan for it. However, if you have a Term Life insurance policy, should the worst happen, your family can be provided for financially. Here are a few scenarios how this can be relevant for you :
If something unexpected happens to me…
I want my child to further their studies without worrying about the cost.
I want my wife/husband to stay in the home that we have lived in without letting our mortgage burden him/her.
I want my parents to be cared for just like they have cared for me.
My car loan should be the least of my family members' concerns.
I hope that my family can live comfortably without worrying about the future.
I don't want to burden my parents with my debt and student loan if something happens to me.
If you find yourself in any of the above, you have some good reasons to get Term Life insurance. Read on to find out what a term life insurance policy can help you with in case something happens to you as a term life insurance policyholder.
What Are the Benefits of Having a Term Life Insurance Policy?
Accidents can happen when you drive out to get some take-out food, or when you're walking down the stairs to get a drink of water at night – anytime and anywhere.
The basic benefit is the provision of sufficient life coverage at the lowest rates. Probably the biggest benefit, other than those listed below, is your own peace of mind – the plan promises the payment of a substantial lump sum if you die during the tenure of the plan. The benefit provided can be huge and provides a financial cushion for the family.
Thus, by buying a term insurance plan on your own life with a sufficient Sum Assured, you can ensure the financial stability of your dependents even when you are not around anymore. This assurance provides every individual with peace of mind free from financial worries.
Benefits of Being Insured Under Term Life Insurance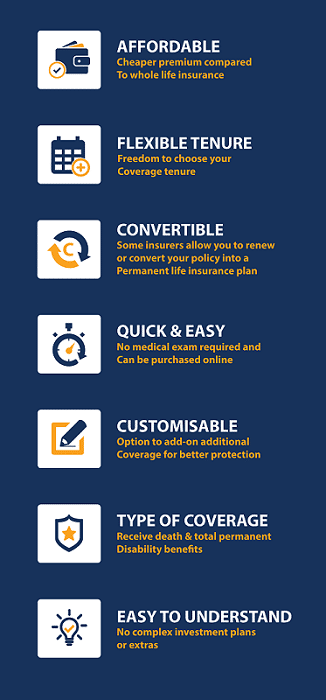 How Much Term Life Insurance Coverage Should I Get?
An ideal term plan is a relative subject and depends on your requirements. A fact-finding exercise is required to assess your financial and future requirements based on which an ideal plan can be bought. However, some facets which should be remembered when buying a term plan so as to make it an ideal one is as follows:
Sum Assured – since a term plan provides the cheapest coverage, you should always aim for the maximum coverage based on your financial worth.
Term– the plan tenure should also be kept long. Choose a plan which offers the highest tenure of coverage because buying a plan later in life would be expensive and also restrictive in terms of coverage.
When it comes to term life insurance coverage planning, there is no perfect formula to decide the actual amount of insurance coverage that you need. It all boils down to:
How much are you willing and can you afford to pay
What are your long-term financial needs?

Having said that, you can take into consideration the factors that will influence your need for term life insurance and use it as a guide for an estimate on the amount of coverage that you or your dependents need. Here are some of the things that we suggest for you to ask yourself:
Are you the sole breadwinner of the family? And if anything happens to you, will your spouse need to work again to support the family?
If you sustain a total permanent disability, can your husband/wife support you?
How many kids do you have and how old are they? What type of support do they need in the situation that you are not around?
Once you have answered those questions, you have a rough indication, but let's give you a more concrete example:
For instance, if your household has monthly commitments of about RM2,000 , give or take, you will need about RM24,000 per year to cover the running cost. At the age of 30, you plan to be insured for the next 10 years. The amount you would want to cover with Term Life is approximately RM240,000
Table of Calculation
RM2,000 – monthly commitment
RM24,000 – annual commitment
RM24,000 X 10 years = RM288,000 – money required for the next 10 years
Future financial obligations – If you have plans for your kid to study in a university, do not forget to include tuition bills and fees in your future plan. Get an estimated figure and outline it against your current cash flow for an overall view of the amount required for tertiary education.
For instance, in University Malaya, the average course fees per year is about RM7,000. The duration for a diploma programme ranges from 24 months to 36 months. From here, you know that at least RM14,000 will need to be set aside for your child's education.
Assets and savings in hand – When deciding the amount of term life insurance coverage needed, factor in your current savings, assets and long-term investments.
For instance, you may have invested a large portion of money into a fixed deposit account that serves to cover your family's future expenses as a part of your financial planning. In this situation, term life insurance comes in as a secondary form of protection for you and your dependents.
Example :
Salim is a 45 years old crane operator with a monthly wage of RM4,000. His work requires him to work with heavy machinery at a construction site. His wife stays at home and takes care of their teenage daughter. Salim can opt to take up a term takaful policy. Priced as low as RM25 monthly, he can choose to be covered for RM50,000 which will help shoulder future financial commitments (house mortgage and child's tertiary education) should anything happen to him.
---
Dapatkan minuman sarang burung dan durian belanda yang mempunyai banyak kelebihan dan khasiatnya sarang burung walet.